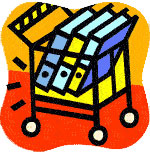 Members: The committee includes two librarians, a chairperson, vice-chair (to be appointed by the Chair), a publicity person, and six members of the congregation. The pastor serves in an advisory capacity.

Purpose: To have reading material and resources available to members and friends of the church. The library is intended to be an educational resource center where church leaders, teachers, and interested individuals can find information.

Responsibilities:

1. Maintain records of inventory.

2. Prepare books for circulation.

3. Set up book displays and discussion groups.

4. Evaluate all new and used books added to the library.

5. Shelve books and resource materials.

6. Purchase and dispose of books and materials.

Meetings: The meetings are scheduled as necessary to conduct new business.

Accountability: The committee is accountable to Session.