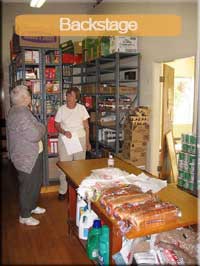 "The Big Flats Community Food Pantry continues to grow and flourish because of the tireless supporters who serve and give of themselves in many different ways. The Pantry is successful in serving the people in our community thanks to all of you who donate plastic bags and food items, provide financial donations, sort canned items, fix the computer, make the thank you cards, ring the bell for the Christmas Kettle, bring the breads, provide pastoral care and work on Tuesdays." (Julie Spangenberg-Jolley, Director, and Donna Nelson, Assistant Director).
The Pantry continues to rely on the generosity of the Big Flats community to serve our neighbors.
Groups that contributed food in 2007 include American Baptist Community Church, Big Flats Elementary PTO, Big Flats Senior Nutrition Site, Big Flats Community Center Youth Group, Hillview Preschool, Montessori Middle School, Bowl Sunday, Big Flats Post Office, Big Flats First Presbyterian Church, Boy Scouts, Curves for Women, Hillview United Methodist Church, and Panera Bread.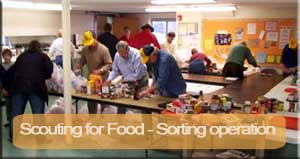 Groups that contributed financially in 2007 include American Baptist Church, "Souper Bowl Sunday" (First Presbyterian Church), Unitarian Church, Methodist Church, Feinstein Million Dollar Giveaway, American Legion, American Legion Auxilary, Lions Club, Crop Walk, Christmas Kettle, and grants from the Food Bank of the Southern Tier.
Special thanks are also due to Minier's, the Wesleyan Church, Stroehmann's (Scott French), Wegman's, Girl Scouts, Antique Revival, Silicon Carbide, Skylar Harwood, Alissa and Adam Jolley, Tom and Ed Rhodes, Bill Howells, and Bev Hendrickson.*
The Big Flats Community Food Pantry is a member of the Food Bank of the Southern Tier network.

* Information on this page is summarized from the annual report of the Big Flats Community Food Panty, which is much more comprehensive.