About the Troop: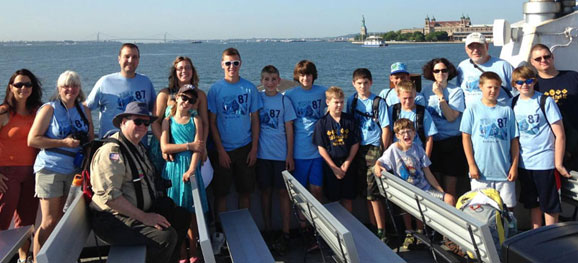 2014: For the boys and families of Troop 87, 2014 can best be summarized as a year of fun, community service, and a big helping of American history. In addition to Summer camp, fundraising, and the many other camp-outs and adventures throughout the year, the boys visited the USS Massachusetts in March, the Statue of Liberty and Ellis Island in July, and West Point in October. For community service they sorted food at St. Mary our Mother's, laid wreaths at Woodlawn National Cemetery, banded geese for the DEC, participated in two food drives, and distributed Christmas baskets for needy families in Big Flats and the surrounding area. They are an energetic crew, planning for both the near term and for more ambitious trips on an 18 month cycle. In the near term they are planning a February snow shoe hike in the Catskills, ice fishing, NYLT (Youth Leadership) training, and a trip to Washington, DC. For the next "big" trip, the Troop is considering either Alaska, or Sea Base in Florida. These larger trips require additional planning and funding. If you wish to help, the easiest way is to drop off your returnable bottles and cans in the recycling bin next to the clothing shed. Please deposit often, it really helps!

Background: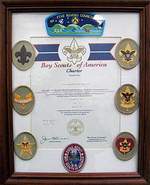 Our church has been the chartered organization for BSA Troop #87 since its founding by Rev. Marcy Punnett in 1965. Since then, Troop #87 has produced more than 40 Eagle Scouts and positively influenced countless others.
The objectives of Boy Scouting are to develop character, citizenship, and personal fitness. There is a strong spiritual component, and Boy Scouting is very much a part of the mission of our Church. We are one of many civic, faith-based, and educational organizations that operate Scouting units to deliver these programs to youth members, as well as the community at large.