About the Troop: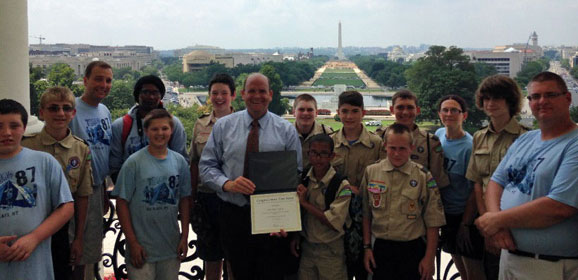 2015:  We are blessed to have such an active and outgoing Boy Scout troop! Looking back at 2015 there was the Polar Bear and Klondike campouts in January and February, Winter Hike snowshoeing in the Adirondacks, a Citizenship field trip to see The Honorable Judge Ferrand at Woodhull Town Court and swimming classes at Elmira College in March, camping and hiking at Gettysburg, rocket building and launching with Mr. Saganario, and Mark Adrien's Eagle Scout project at Catherine Valley Trail in April. In May and June there was COPE / Leadership training and Rope course, the Spring Challenge at Park station where scouts had to build a raft to hold 4 scouts and race on the lake, and in June there was Community Days volunteering, Sherriff's Camp clean up at Keuka Lake, Tags Parking for concerts (fundraiser), and the Troop also helped our church set up for the Rummage sale and do landscaping. That's only the first half of the year! In July there was White Water Rafting Letchworth State Park, Summer Camp at Gorton (where some scouts went for 2 weeks), and a trip to Washington DC where the Troop went to floor of the house of representatives with Congressman Tom Reed and hiked through the city. In August and September the Troop volunteered for kids with Cancer day, backpacked in the PA Grand Canyon, and sold much popcorn. In the Fall there was the "Tent or Treat" Halloween event on the Welles land, family cooking and camping at Coopers Plains, a wreath sales fundraiser, and of course Scouting for food. Finally in December the Troop laid wreaths at Woodlawn Cemetery, adopted a Christmas family in need, and assisted the Lions Club (and the Food Pantry) by ringing the bell at Minier's. Scouting provides a positive structure in which boys can grow and achieve, and our Troop is a particularly strong one.

Background: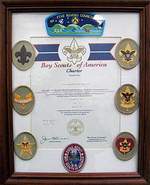 Our church has been the chartered organization for BSA Troop #87 since its founding by Rev. Marcy Punnett in 1965. Since then, Troop #87 has produced more than 40 Eagle Scouts and positively influenced countless others.
The objectives of Boy Scouting are to develop character, citizenship, and personal fitness. There is a strong spiritual component, and Boy Scouting is very much a part of the mission of our Church. We are one of many civic, faith-based, and educational organizations that operate Scouting units to deliver these programs to youth members, as well as the community at large.
How to Help:
If you wish to help but are unable to join or volunteer, the easiest way is to drop off your returnable bottles and cans in the recycling bin next to the clothing shed. Please deposit often, it really helps!
Troop News from the Past:
Click here for previous annual reports and other news items from the Troop!